When my husband was a senior at U of I, he broke his leg while skateboarding. He was hopping a curb, as he always did, and somehow he landed wrong and broke his leg. It was a compound fracture, the kind you hear about in health class when you're learning about such things. The kind of fracture that everyone goes "Ewwwww..." about. My poor husband.
He had to have a cast and use a cane for a year. He hadn't gotten a job yet after school, and his mother saw a dulcimer kit on one of her many travels (she travels a lot), this time in Kentucky or South Carolina or somewhere in Appalachia. She thought this would be something enjoyable for her son to work on while his leg healed.
So because of the broken leg, and the loving Mom, my husband came to have an instrument that he had never seen or even heard of. How can there still be things in America from other cultures that we don't know about? It's exciting, though, to always have more to learn. Always.
My husband now has his mountain dulcimer that he made. It looks something like this.

Along the way, he has also picked up a love of ukuleles. He has two that look like this.

One is smaller and is called a Flea.
He plays camp songs, and of course Hawaiian songs and even 60's songs. He joined my daughter on stage for the talent show at the Homeschooling Conference we went to last year and played
Take Me Out to the Ballgame
while my daughter sang her heart out. He can jam on ukuleles. Well, as much as one
can
jam on a ukulele.
My husband also can play the beginnings of tons of songs on guitar which he learned to do while a teenager. He wasn't much interested in perfecting any one song, but it would be suh-weet to learn the beginning of a bunch. So, he can play:
Blackbird
and
Smoke on the Water
, and
Pinball Wizard
. My husband is musical but never really thought so because he hasn't perfected many songs. And yet, right after he rides home on his bike from work, he'll grab a uke from the top of the piano and start playing as he walks around the house and says hello to us. For many years he's been wanting to play music with other people.
A while ago, our friend
Neo-agrarian
got a hammer dulcimer. It looks a little like this.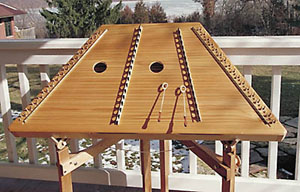 It was a while before my husband knew that our friend had gotten this. Our friend didn't realize that my husband had a mountain dulcimer, and then somehow they both found out and decided they should try to play them together. So they did.
For a couple of months, our friend would come over on some weekends and play. Sometimes he would come during the week after a class that our kids are all in together. I enjoyed listening to them together. There were long discussions about the different tuning and different characteristics of the two dulcimers.
I realized that it could be fun if we had a hootenanny. We could all make music together--the kids included!
What is a hootenanny? Here's part of a Wikipedia entry:
Hootenanny
was used in the early twentieth century
America
to refer to things whose names were forgotten or unknown. In this usage it was synonymous with
thingamajig
or
whatchamacallit
, as in "hand me that
hootenanny
." Hootenanny was also an old country word for "party". Now, most commonly, it refers to a folk-music party.
According to Pete Seeger, in various interviews, he first heard the word hootenanny in Seattle, Washington in the late 1930s. It was used by Hugh Delacey's New Deal political club to describe their monthly music fund raisers. After some debate the club voted in the word hootenanny, which narrowly beat out the word wingding. Seeger, Woody Guthrie and other members of the Almanac Singers later used the word in New York City to describe their weekly rent parties, which featured many notable folksingers of the time. Joan Baez made the analogy that a hootenanny is to folk singing what a jam session is to jazz.
We all worked on a handful of songs:
Shenandoah
,
The Battle Hymn of the Republic
,
Amazing Grace, Greensleeves and Scarborough Fair.
I realized that I could get some practice in with the guys before the big party day, so I got out my flute from the crawl where it has been sitting idle and unblown for the 10 years we have been in this house. I took lessons as a kid and I never have really played as an adult. But, I did now and it was a blast.
Saturday night was the Hootenanny. We had the two dulcimer players, the floutest, a mandolin player, a recorder player, a cellist, a trombone player, a guitarist and a snare drum player. Um, not exactly the classic folk music line up, but a thoroughly enjoyable mix of adults and kids all playing their hearts out in all sorts of keys and tempos. It was hilarious, uproarious and amazing. We were making music together!
The kids all scattered and ate up the cookies and the chocolate almond torte and the chips and guacamole and salsa and deviled eggs all disappeared and the trifle I made was good but too rich and so it was just us adults making music on the porch while the kids all played. We drank sangrias and mead and beer and red wine and pink lemonade, and we laughed. And we took solos. And we played the same song over and over again really starting to groove.
I taught the group a couple of rounds to sing, and it was fun even with the realization that many of us are terrible singers. OK I am--it's not a crime, you know. Again, hardly the point of all of this, and it didn't matter any way.
Listen to
this
. If we were a little bit better we would have sounded like that--kind of.
There is serious discussion now about someone hosting a chili cook off in the fall and there will be music again. The theme this time is songs of the west. So far we have
Home on the Range and Ghostriders in the Sky.
Can you think of other songs we might try? Based on this first hootenanny, I know we will need lots of practice to get something that sounds good. Practicing is part of the charm and the fun.
Here's how you have a hooteanny: agree on some pieces of music to practice, invite friends who can play something, or sing, or tap a toe, make some fabulous food, have some wine and then play your hearts out in unison and with friendship and joy.